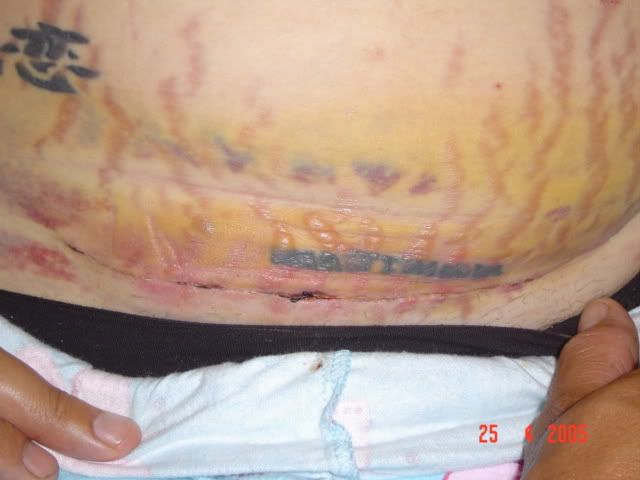 That is the truth that i had a c-section when i had amelia... The reason why i had a c-section is:

Really i had itchy body, swallow, hot, dizzy, lots of spot on mai tummy so i had to go to hospital then the doctor said i had to stay over night because of my blood pressure were very highly also i had chloresatioa ( that cause itchy ) sorry about da spelling... Next day the mid wife of hospital do blood test, blood pressure, hear the baby's heart rate then the doctor said im sorry your blood pressure is still high so u will have to stay few days so we can watch over you.. I got frustrated because i couldnt STAND hospital's smell!... but i moved into other ward with pregnant women!. god i dropped my eyes bec there were so many pregnant women!...

so the doctor came to see me again with my sister tara who interpert for me, the doctor said that i will have to have the baby to be born earlier because of these risks, i was exciting but bit not forward is what?! " INTEL GEL " which put special gel to put inside you to help the contranstion so the indian doctor put the intel gel in me, i hold mai breathe and wasnt relaxing because i fucking hate that pain!!!.. its so cruel of the indian doctor!... then nothing contras then next day me and luke went for walk and went back to the ward, i missed indian doctor cuz she was supposed to put more intel gel, i was like GRRRR but the white midwife said she would do it so i said ok then she did it, it was no painful!... God she wasnt that cruel just like that bitch indian doctor! ugh! lol

then contras started, it was sore! but its worthy!, then sunday mom visited me with my lil sister so mom told me to go for walk so we all did, luke was saying to me that the baby will BORN today, i told him nah it will be other few days!... luke just bother my word so i was like ok!... so we sat and watch the bird flying around, eating foods then i said to mom i need to go to the toliet so i sat down again cuz of contras then i got up and i feel something running down on my under wear and realized it must be WATER BROKE so i screamed mom and everyone looked at me! i didnt care lol...

then arrived to hospital, my local mid wife said she would put smear to check if the water is broke so she did
but i put gas to breathe in so i cant feel the painful! gas got me laughing laughing hard out, the mid wife said that the water havent broken! so it was something else then mid wife use the stick with bit sharp to see if we can pop the water broke then will have the baby born so she did but somehow luke and tara looked so white, the mid wife looked so painc then i realized i can feel the blood coming out then i said whats going on? then tara said your blood is coming out as it is PLACENTA, i got pissed off cuz the other hospital said the placenta had MOVED but it havent as it was low to my cerix! then i was so painc over my baby cuz i didnt want to lose her!... then i told tara to get mom cuz i am so close to her...

the doctor said you have to have c-section urgent but i have to do that ASAP!... so now what??: they put something injection to help me not to feel the painful, it took 25 mins do that!, i was unpaitent cuz i cant stand the painful!, so i got told to lay down to get ready, i was exciting! the doctor said you want to sleep i said no i wanna to be a wake so he said its fine.... then i can feel the sugery cut and rougly pull the skin backward to see the baby etc, i cant see but tara and luke can see it, ewww i cant stand seeing at it lol, then tara told me the water broke then i said oh yeah i can feel the water! but no feeling painful!.... then tara said " OH MY GOD, she got BLACK hair! " they got her out and i saw it and i started to CRY cuz i kept bugging luke that i got a feeling that amelia will have black hair and it turned TRUE omg!... hehe.. i was like overwhelmed and glad everything are over!.. me and amelia being healthly! phew!...

she born on sunday 17th April 2005 at 7.40pm.. weight 8lbs

the c-section on my tummy took aroun 3 months to healed! its such long time!.. now i have scar but im using Bio-Oil to help the scar!...

So glad its OVER... now me and amelia are very happy! =)

you know old fashion they cut from the belly to hairy but other side! which is much better!!! phew!
forgot to add " i lost 4 litres of BLOOD! " but luckily i had blood transfer in me and i felt so great!.